Guillotines
Doel Engineering Limited offer a range of guillotine designs for precision sheeting from a web where extremely high cutting forces are required.
Examples of materials are thick flexible plastics and felts; e.g. floor coverings.
Web indexing can be by precision roller drive or pneumatic transfer. The indexing length is infinitely adjustable from 10mm to 3000mm.
Any web width up to 2000mm can be handled. Product thickness is limited to 25mm to allow rapid cutting sequence on short feed lengths.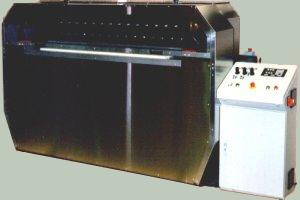 Cutting force by hydraulic cylinder can be up to 20 tonnes depending on the application.
Slitting facilities can be fitted.
The cut products can be collected on a simple sloping table or onto a rise and fall stacking table for ease of handling. For larger sheets pick and place units are available.
The guillotines unwind can be of the simplest form or one of the more sophisticated models in the Doel Engineering range, depending on the loading method.