Machinery Upgrades
Doel Engineering Ltd's specialist design team can offer machinery upgrades and modifications for most fields of application.
We have modified and upgraded such diverse applications as:
• Agricultural machinery
• Bag making machines
• Inspection machines
• Packaging machines
• Photographic machinery
• Precision component engineering machines
• Various web product related machinery
HMI control can be integrated into production operations in conjunction with automation to increase output.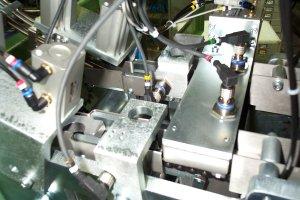 Automating product packaging as part of the machines process.
Speed up individual machine operations.
Link operations together to reduce labour using pick and place, robotics and special conveyors.
On line inspection can be integrated into existing machines.
We also have expertise in overhauling most types of machinery, replacing worn out components and engineering new parts; mechanical, electrical, pneumatic or hydraulic.
The modifications and machinery upgrades engineered by Doel Engineering Ltd meet all of the necessary health and safety standards.