Y10 Compact Sheeter
The Standalone Compact Sheeting Machine: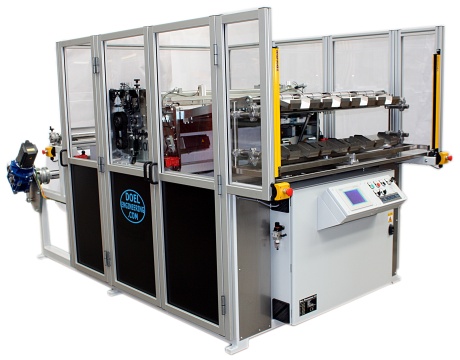 move cursor around the image for more information
Drawing upon decades of experience in the web converting industry, we have utilized our extensive knowledge to develop a compact, standalone, Sheeter which compliments our long standing range of full size, double unwind, sheeting machines.
The Y10 has all the components you would expect from a 'state of the art' Sheeter:
• Welded Steel Box Frame
• Driven Unwind
• Anti-Curl System
• Web Guider
• Dancing Arm System
• Tangential Rotary Shear Slitters
• Scissor Action Cross Cutting
• Two Level Conveyor
• Vibrating Collation Trays
All housed within a very compact footprint making it ideal for those with limited space availability.
As with all our machines the Y10 is fully guarded to the latest specifications ensuring the operator is protected at all times. The side guards comprise of interlocking doors which enables quick and easy access for set-up or maintenance.
The HMI panel and controls are located conveniently at the front of the Y10 for easy operation and configuration.
The two level collation allows for continuous running, meaning less downtime resulting in quicker production turnarounds and lower costs.
The first Y10 has just been delivered overseas to a delighted customer who will be using the machine to convert rolls of paper Ø800mm x 1000mm wide into 200mm x 150mm sheets at 120 cuts per minute; yielding 480 sheets per minute.
---
This is a movie of the Y10 Compact Sheeting Machine converting sheets from a roll neatly into the collation trays.